Smart Extraction
Cost-and Performance-Effective Solutions
Tens of thousands of plant species are known to contain valuable extractable chemicals, so-called "Natural Products". Natural products represent a vast and complex phytochemical system comprising many different compounds such as terpenoids, cannabinoids, and flavonoids. To address the natural product market opportunity, many different plant extraction techniques have been developed which use organic solvents, CO2, or water. Plant extraction is the most economically and environmentally impactful unit operation in terms of manufacturing waste such as time, energy, material, and by-products.
Moreover, many natural products command very high prices today due to their rarity, medicinal value, or consumer popularity, for example CBD. Manufacturing waste generated during plant extraction is easily hidden by a flood of profits. However, this situation invariably changes. Present and future price competition and raw material supply constraints require more efficient, productive, and versatile extraction technology.
In this regard, our decades-long experience in the development and commercialization of CO2 extraction, immersion, and spray cleaning technology and commercial products for the highly competitive global manufacturing markets has provided us with a valuable perspective and competitive advantage. We are leveraging this extensive experience together with our market-proven CO2 innovation capabilities to develop cost- and performance-effective solutions for exhaustive extraction, in-situ extraction process monitoring, and extract processing. Our latest Smart Extraction innovations are summarized in Figure 1.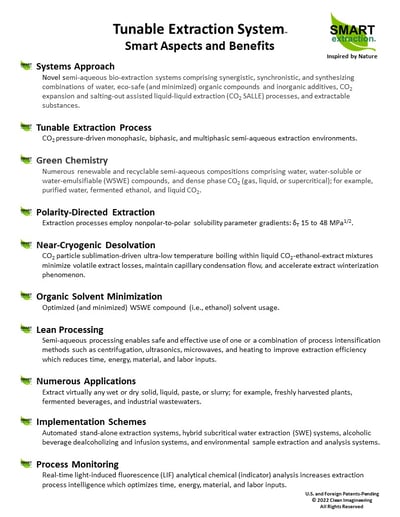 Ready for next steps? Try our free Clean Manufacturing Consultation.